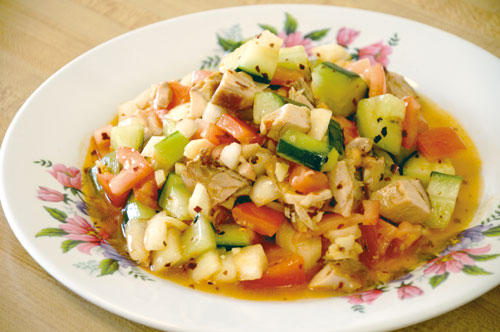 Las Vegas is billed as the center of entertainment world, a mecca of extravagant casinos, dazzling nightlife, and vibrant dining scene that boasts flavors from across the world. The dining scene includes a large number of giant chains, such as McDonald's, Wendy's, and Panda Express, but those looking for something different can find that by going to places like Peking Express, a hole-in-the-wall eatery located in suburban Las Vegas.

Location, location, location rings loud in the hospitality industry, and many owners choose a place with a high concentration of people on the go. Shopping centers are one of the better places to open a restaurant. Located in a small shopping center, Peking Express prides itself on providing convenience to foodies with its tasty yet affordable take-out offerings, and has accumulated a large cadre of loyal fans over the years.

Most of Peking's loyal customers are local Americans, aside from African Americans, Mexicans, Filipinos, and Thais. Owing to a diverse cultural background, the offerings at Peking Express extend across the culinary realm. Its menu includes fried wantons, crab Rangoon, dishes containing fresh vegetables and chicken, and a large number of fried rice options.

To cater to the customers' requirements, owner Louie Liu has chosen to modify recipes, tame the spiciness of dishes, and make more healthy creations. The focus is on catering to customers without giving up authenticity. Since Liu took over the restaurant in 2008, he has developed his own cooking style—blanching the ingredients before putting them into the wok to cook and adding little oil so that the dishes are not greasy. This is part of Liu's strategy to provide healthier food apart from just opting to steam fresh vegetables.

"People like our dishes, because we cook everything just the way they like it," explains Liu. Always looking to appeal to its loyal fans, Peking Express always has something creative on the menu to attract more and more customers. Many come for their Hawaiian Teriyaki Fried Rice.

Fried rice, a standard Chinese dish at most Chinese restaurants is anything but that at Peking Express. There, it is imbued with a touch of Hawaiian flavor by seasoning the fried rice with a bundle of mixed sauces which are served alongside. The secret to making the fried rice unbeatable is Liu's years of cooking experience.

Other crowd pleasers include General Chicken, Kung Pao Chicken, Mongolian Beef, Jumbo Shrimp Fried Rice, Chango Noodle Soup, and Traditional Combo Noodle. The Chango Noodle Soup is really sort of breakfast comfort food Liu cooked for staff at first, and finally shows its surprising presence on the menu because the staff crave for such stuff and Liu hopes more customers could enjoy it. It is a combination of shrimp, chicken, and bacon swimming in the soup, and addition of lemon delivers a light fruity kick. Chili can be added for diner's preference.
The homemade sauce makes a subtle difference, while the fresh ingredients bring the flavor to a higher level that inferior quality food could never aspire to. Deeply rooted in the fresh ingredients that Las Vegas has to offer, Peking Express has a common theme that revolves around the restaurant—freshness. Liu's busy day start every morning when he checks the food shipments. He always chooses superior quality ingredients, such as four star beef and fresh waterless chicken meat. This unwavering commitment to freshness and great taste illustrates Liu's drive to provide the best quality dishes possible even if that means making less profit.
"We don't skimp on quality just to make an extra buck," says Liu. "Preparing healthy and delicious dishes means that sometimes you just have to pay more for ingredients."
The efforts paid off. Some of customers who moved out of town even headed to sample or pack an order when they returned, telling Liu how much they missed the food at Peking Express. One loyal fan joked, "I miss you, Louie, but I miss the food even more."
Having worked as an officer in charge of checking the sanitation practice of restaurants and hotels, Liu is an expert on Total Quality Management and has a strong knowledge of threpsology and medical science. Thus, he knows freshness and sanitation are the backbone of a successful restaurant. According to Liu, there are three ways to establish sound hygiene. First, keep a clean and well maintained dining environment. Second, use fresh ingredients and third, use healthy methods to cook dishes while making sure to keep taste consistent.

Liu has a strict set of guidelines for the staff to follow, that cover everything from the timing to the amount of sauce, oil, and salt. Therefore, customers can always rest assured that the food is consistent—the fried rice they are eating this time will have the same delicious flavor next time.

In addition, Peking Express has an open kitchen that enables the customers to peer through the window and see how their orders are being prepared. "This means that we try every means possible to make sure the kitchen range is in order. Our staff also does everything according to the guidelines laid down by the local Bureau of Health. They always do a great job, and so the restaurant often receives an "A" grade after inspections," boasts Liu.

When customers first step into Peking Express, they feel welcome and are impressed by the cleanliness of the restaurant and the friendliness of the staff who go out of their way to make everyone's experience an enjoyable one.

Even so, business isn't as good as it was before because of the economic recession which has plagued the whole country, bringing with it a high rate of unemployment. A lot of people have moved away from Las Vegas, hurting the business of many restaurants, such as Peking Express. The good news is that Peking Express has found ways to adapt to the current situation. Liu now offers a 10% discount by sending out a post card which acts just like a coupon when customers take it to the restaurant on their next visit.

"Competition is tough here, and foodies have been dining out less because of the weak economy," says Liu, "this is one of the best solutions that I could figure out, and I do hope that it works."

Peking Express has a modest dining space with only six tables. However, the speedy take-out and delivery offset this. Orders are always delivered within 25 to 30 minutes.
Peking Express

Location: 3278 Las Vegas Blvd. N, Las Vegas, NV 89115
Phone: 702-644-6776
Offers: Dine-in, Take-out, Delivery
Cuisine: Americanized Chinese Cuisine
Signature Dishes: Kung Pao Chicken, Mongolian Beef, Jumbo Shrimp Fried Rice, Chango Noodle Soup, Traditional Combo Noodle, Hawaiian Teriyaki Fried Rice
Year of Establishment: 1989