Master Chef of China's State Banquet Entertains Bay Area Mayors by Painting Chinese Calligraphy with a bowl & Chopsticks
Master Carving Chefs & Master Pastry chefs of San Francisco Craft State-of-the-Art Banquet To Celebrate Year of the Dragon, the year of Chinese Cuisine
Newark, Calif. (January 9, 2012) – Chinese Restaurant News (CRN) reveals the 8th Annual Top 100 Chinese Restaurants winners & Top 10 Signature Dishes today. Restaurateurs of over 300 Chinese & Asian eateries gather at the Santa Clara Convention Center Theatre to celebrate this annual award festivity, jointly organized by Chinese Restaurant News and the Chinese Restaurant Foundation. "This year, we enthusiastically feature local mayors as special guests to present a Signature Dish award to the winning restaurants in their cities," says Betty Xie, editor-in-chief of Chinese Restaurant News. Attending mayors and finalists of the Top 10 Signature Dishes can be viewed at http://www.Top100.ChineseMenu.com.
Master Chef Liu FengKai, a State Banquet Head Chef from China, works with Bay Area's well-established May Flower Seafood Restaurant chefs crew, to replicate some signature dishes that Chef Liu once cooked for former President Jiang Zemin and President Hu JingTao. A group of talented master chefs from the Bay Area join hands to grace the banquet table with the fine art of Chinese culinary decoration, including the lively flying dragon by Master carving Chef Jimmy Zhang, the lovely chick pastry dessert by Master Pastry Chef TongGang Wang, and Chef Eddie's series of dough figures resembling U.S. Presidents Obama, Bush, Clinton and President Lincoln.
"With the help of the Chinese Restaurant Foundation, we're very fortunate to have gathered such a great team of culinary talents to showcase the art of a "State Dinner" of Chinese Cuisine," says Theresa Lin, the anchor emcee of the Top 100 Awards. Adding to the excitement, Master Chef Liu FengKai will entertain mayors by painting Chinese calligraphy with a bowl & Chopsticks.
About Chinese Restaurant News
Chinese Restaurant News (www.c-r-n.com) was founded in 1995 to inform the Chinese speaking owners and operators of 47,000 Chinese restaurants in the US of industry news and trends. CRN is published by parent company, Smart Businesses Services, Inc. (www.s-b-s.net).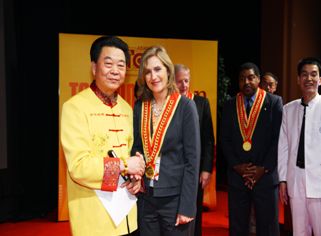 Liu Feng Kai (Left) and Vice Mayor of Santa Clara Lisa Gillmor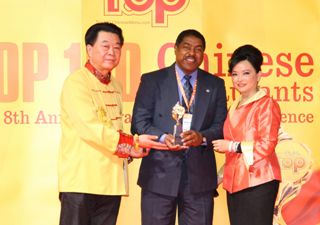 Liu Feng Kai (Left), Council Member of Hayward Olden Henson (Middle) & Theresa Lin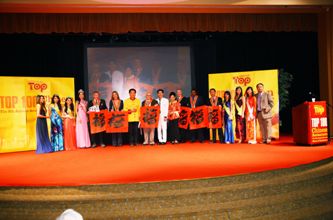 Liu Feng Kai, Bay Area Mayors and Miss Asia Winners at the Ceremony Gala
Document Download: